Considering some recent events, I think we could all stand to educate ourselves on Native American or First Nations cultures and histories. It's great to dive into some fact-packed non-fiction, but it's also super valuable to read fiction depicting culturally diverse characters written by culturally diverse authors. So, here is a list of young adult fiction featuring Native American main characters.
Streams to the River, River to the Sea: a Novel of Sacagawea
By Scott O'Dell
Place a hold.
Sacagawea, a Shoshone Indian, guided and interpreted for explorers Lewis and Clark as they traveled up the Mississippi, but she had adventures long before that one, like the time she was captured by the Minnetarees, and taken away from her family and everything that she knew and loved.
The Absolutely True Diary of a Part-Time Indian

By Sherman Alexie
Place a hold.
Bestselling author Sherman Alexie tells the story of Junior, a budding cartoonist growing up on the Spokane Indian Reservation. Determined to take his future into his own hands, Junior leaves his troubled school on the rez to attend an all-white farm town high school where the only other Indian is the school mascot.
Code Talker: a Novel about the Navajo Marines of World War Two
By Joseph Bruchac
Place a hold.
Throughout World War II, in the conflict fought against Japan, Navajo code talkers were a crucial part of the U.S. effort, sending messages back and forth in an unbreakable code that used their native language. They braved some of the heaviest fighting of the war, and with their code, they saved countless American lives. Yet their story remained classified for more than twenty years.
My Name Is Not Easy

By Debby Dahl Edwardson
Place a hold.
Luke knows his I'nupiaq name is full of sounds white people can't say. He knows he'll have to leave it behind when he and his brothers are sent to boarding school hundreds of miles from their Arctic village. where speaking I'nupiaq is forbidden. Luke struggles to survive at Sacred Heart. But he's not the only one. And, once their separate stories come together, things at Sacred Heart School will never be the same.
If I Ever Get Out of Here
By Eric Gansworth
Place a hold.
Lewis is used to the joys and difficulties of life on the Tuscarora Indian reservation in 1975: the joking, the Fireball games, the snow blowing through his roof. What he's not used to is white people being nice to him — people like George, whose family recently moved to town with the Air Force. As the boys connect, Lewis has to lie more and more to hide the reality of his family's poverty from George.  If George finds out the truth about Lewis's home, will he still be his friend?
The Smell of Other People's Houses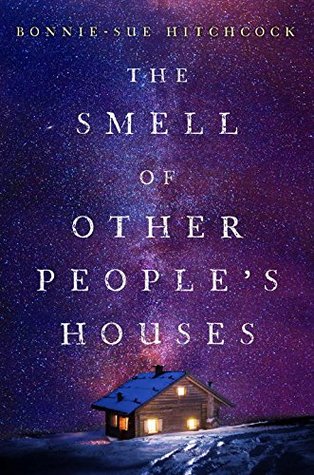 By Bonnie-Sue Hitchcock
Place a hold.
In Alaska, 1970, being a teenager here isn't like being a teenager anywhere else. Ruth has a secret that she can't hide forever. Dora wonders if she can ever truly escape where she comes from, even when good luck strikes. Alyce is trying to reconcile her desire to dance, with the life she's always known on her family's fishing boat. Hank and his brothers decide it's safer to run away than to stay home—until one of them ends up in terrible danger.
I Am Apache
By Tanya Landman
Place a hold.
After watching helplessly as Mexican raiders brutally murder her little brother, fourteen-year-old Siki is filled with a desire for vengeance and chooses to turn away from a woman's path to become a warrior of her Apache tribe. Though some men wish to see Siki fail, she passes test after test, and her skills grow under the guidance of her tribe's greatest warrior. But people begin to whisper about her father's dishonorable death, and even as Siki earns her place among the warriors, she senses a dark secret in her past — one that will throw into doubt everything she knows.
Touching Spirit Bear

By Ben Mikaelsen
Place a hold.
After severely injuring Peter Driscal in an empty parking lot, troublemaker Cole Matthews is in major trouble. But instead of jail time, Cole is given an alternative: a one-year banishment to a remote Alaskan island. This program—called Circle Justice—is based on Native American traditions that provide healing for the criminal mind. To avoid serious jail time, Cole resolves to go. While there, Cole is mauled by a mysterious white bear and left for dead. Thoughts of his abusive parents, helpless Peter, and his violent anger cause him to examine the root of his troubled ways.
**Summaries supplied by goodreads.com**
____
Tara