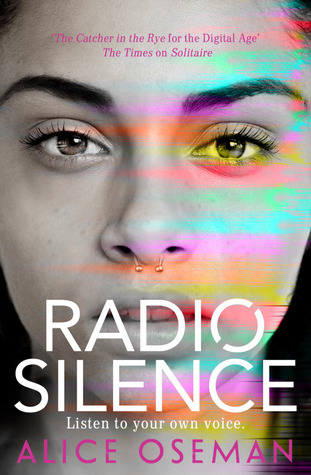 Radio Silence
By Alice Oseman
Place a Hold.
Frances is at the top of her class. She is headed to a super prestigious university and everyone knows it. What they don't know about is the quirky fangirl heart that beats beneath her study-buddy persona. No one – not even her school friends – know the real Frances.
But, then she receives an invitation to do art for her favorite podcast – an invitation from the mysterious creator himself! And she meets him.  And he gets her, like, really gets her. For the first time in her life, she discovers real friendship.
But, when the podcast gains thousands of followers overnight, tension rises and the friendship becomes strained. And Frances has to decide, once and for all, who she really is and what she's willing to risk for a friend.
___________________________________________
I love this book because, at its heart, it's about people trying to live up to others' expectations. It's about the course plotted for you by parents, teachers, friends, society. It's about all the things you're supposed to do and want and feel and think. And it's about people finally saying "Nah, man, that's not me." and discovering the things that they actually *do* want and think and feel.
This is a universal struggle for teens. But, honestly,  the search for self doesn't end when you hit 20. Or 30. Or 90. The world is always changing around us, so we must constantly re-examine our place within it.
And I love the way the author depicted this search – with angst and tears and anger and ugliness and with forgiveness, compassion, and beauty.
____
Tara