Title: One of Us is Lying
Author: Karen M. McManus
Publication Date: 2017
Place a hold here.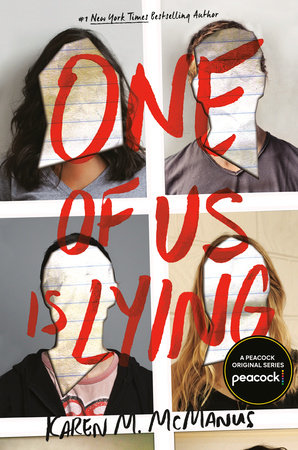 Goodreads Summary:
"The Breakfast Club meets Pretty Little Liars, One of Us Is Lying is the story of what happens when five strangers walk into detention and only four walk out alive. Everyone is a suspect, and everyone has something to hide.
Pay close attention and you might solve this.
On Monday afternoon, five students at Bayview High walk into detention.
Bronwyn, the brain, is Yale-bound and never breaks a rule.
Addy, the beauty, is the picture-perfect homecoming princess.
Nate, the criminal, is already on probation for dealing.
Cooper, the athlete, is the all-star baseball pitcher.
And Simon, the outcast, is the creator of Bayview High's notorious gossip app.
Only, Simon never makes it out of that classroom. Before the end of detention, Simon's dead. And according to investigators, his death wasn't an accident. On Monday, he died. But on Tuesday, he'd planned to post juicy reveals about all four of his high-profile classmates, which makes all four of them suspects in his murder. Or are they the perfect patsies for a killer who's still on the loose?
Everyone has secrets, right? What really matters is how far you would go to protect them."
Tara's Reaction:
What I love most about this book is the cast of characters. Simon is kind of a jerk (I mean, seriously, he created an app for the sole purpose of exposing people's secrets – who does that?), but Bronwyn, Nate, Addy and Cooper are each really likable despite their dark secrets and past mistakes. I didn't really want to believe that any of them could be a killer, but they all have a motive and all had the opportunity to do it, so…, even though I really hoped it wasn't any of them, I wasn't completely sure until the end. There were points in the book where I thought maybe it was Addy or Bronwyn, or any of them. But, even though I knew that one of them might have murdered a fellow student in cold blood, I found myself empathizing with each of "The Bayview Four"(as they came to be known).
Bronwyn might be a goody-goody, but she's kind and determined and loyal. Cooper might be a jock who's just using his girlfriend, but he, too, is a loyal friend and is trying so hard to live up to his father's expectations. Addy might seem like a pushover, but she finds her strength and stands up for herself by the end of the book. And Nate is indeed a drug dealer, but he's also one of the most genuine characters in the book – at least until he finally does have something to lose.
To me, the question underlying the story is: "Is truth always the best path?" Simon discovered people's secrets and exposed them. Some would say he was standing on the side of truth and anything that happened to people as a result of this was their own fault for not owning their mistake in the first place. Others would say he was hurting people through his actions and some truths are better left unrevealed.
The answer to that question, just like the answer to this mystery, is out there for you to uncover.