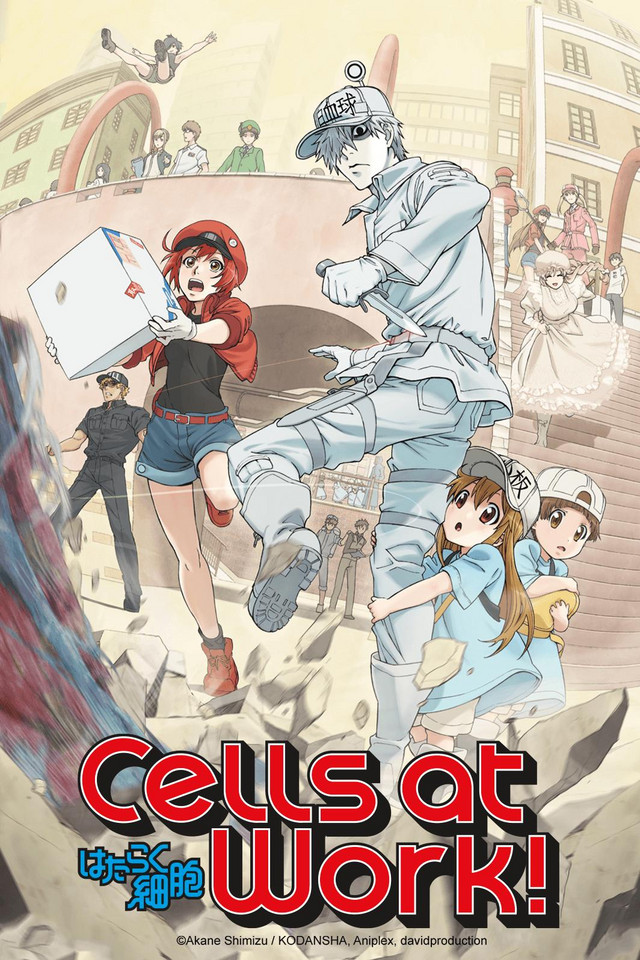 Age Recommendation: 12+
Genre: Comedy
# of Episodes: 8 (ongoing)
Synopsis:
"This is a story about you. A tale about the inside of your body. According to a new study, the human body consists of approximately 37 trillion cells. These cells are hard at work every day within a world that is your body. From the oxygen carrying Red Blood Cells to the bacteria fighting White Blood Cells, get to know the unsung heroes and the drama that unfolds inside of you!"
Commentary:
I've had a chance to see two episodes so far of this show, and I absolutely, completely adore it. It brings me back to the days of the Osmosis Jones TV show I'd watch Saturday mornings back when the dinosaurs roamed the Earth.
However, Cells at Work is definitely not a copy! It just gives me the general feeling because of the setting, but that's where the similarities end. For one, this is strangely educational without going overboard. Each character when they're first introduced, it's explained what they do in our bodies and why they're important!
Also, White Blood Cell is pretty competent (Sorry Osmosis, I still love you)! And the Red Blood Cell is just completely adorable. She's still learning her job and gets turned around every which way (ending up in the kidneys when she was trying to find the lungs!) in our confusing bodies but still always does her best! Thankfully White Blood Cell is usually there to save the day from whatever mishap she landed herself in this time.
I never thought I'd ship cells (Red Blood Cell X White Blood Cell forever) in my body together but I do. I unapologetically, totally do.
We are going to watch Cells at Work on our next anime night on September 10 at 5 p.m. Can't wait until then? Watch it on Crunchyroll for free!